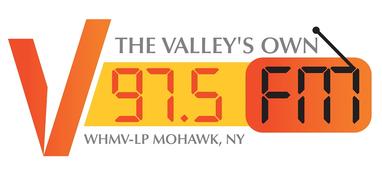 Stream Us
You can now listen to WHMV-LP anytime and anywhere. WHMV_LP is now streaming live over the internet. Listen to WHMV-LP on your streaming device. Get caught up on local news, weather, and community events. You'll always feel right at home streaming WHMV-LP NO MATTER WHERE YOU ARE! It's like you never left home!

What's New

We are currently seeking interested individuals to be station volunteers. Please Contact us if interested.
---
---
We are a 501 C-3 Corporation and we are listed with the New York State Attorney General Office's Charity Bureau.

Your contributions are the only source of funding for our studio and broadcast facilities. Without your support, this radio station cannot exist. Consider a donation using the button below...
Smile on us!

Support Local Radio!
Donate directly or Smile on us! Either way we wanna say "Thanks" for your support!
100 East Main Street #40
Mohawk, NY 13407
Phone: (315) 939-8975

A Service of the Mohawk Valley Radio Group
Our Major Sponsors
Radio Station WHMV-LP ("the Station") is licensed to Mohawk, NY and is authorized by the Federal Communication Commission ("FCC") to operate its noncommercial broadcast station on an assigned frequency of 97.5 Mhz. The licensee of the Station is the Mohawk Valley Radio Group, Inc. Pursuant to the rules and regulations of the FCC, the Station is permitted to broadcast underwriting and sponsorship announcements from for-profit entities, but is not permitted to broadcast commercial advertisements on behalf of for-profit entities. However, in the case of a bona fide non-profit entity the Station is permitted to broadcast commercial advertisements on behalf of that bona fide non-profit entity.

We think you will find that underwriting programming on WHMV-LP is very beneficial and effective. Targeting local listeners is good business! It lets listeners know that through your contribution, you are supporting the local radio station they enjoy. Compared to advertising on regional commercial radio stations in the area, we're sure you'll find our sponsorships are much more cost effective and as a sponsor, you'll receive on air acknowledgement of your support.

Acknowledgements appear in the form of the name of the business, location, contact information, hours of operation, and a brief overview of products/services provided. LPFM stations are not permitted to mention prices, fees, or calls to action. See our underwriting contract for more details or contact us directly.

If you would like to learn more about underwriting our programming and becoming a sponsor, please contact the radio station.
We're here for YOU...24/7!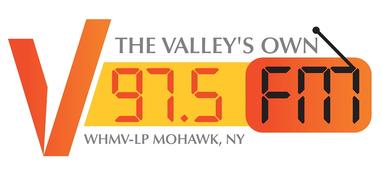 Thank you to our major sponsors/underwriters for their financial support! Without their generous monthly contributions of $100 or more V-97.5 FM could not operate. If you'd like to help support this radio station and music so many folks in the Mohawk Valley listen to and enjoy, please contact us at 315-939-8975 for more information on how you can become a sponsor!